Quick Facts
Known For Dar Si Jaati Hai Sila
Nickname:Noman
Full Name:Noman Ijaz
Profession:Actor, TV Presenter
Nationality:Pakistani
Age:56 years old (in 2021)
Date of Birth:February 14, 1965
Birthplace:Lahore
Religion:Islam
Zodiac Sign: Aquarius
Height, Weight & Physical Stats
Height:5 feet 10 inches (1.78 m)
Weight:76 kg (168 lbs)
Chest:39 inches
Waist:32 inches
Bodytype:Slim
Biceps:12 inches
Hair Color:Black
Eye Color:Brown
Noman Ijaz is a well-known Pakistani television personality. He is a senior TV and film actor, anchorperson and show presenter who has portrayed several versatile roles on the state Television PTV. He was born on 14 February 1965 in Lahore, and raised in the Icchra town of Lahore. Since then, he resides in the same city. His father was a manager in a movie theatre and his mother is a housewife. He got his early education from Cathedral High School, Lahore. Next, then he attended Divisional Public School, Model Town, Lahore for secondary education. He completed his intermediate from Forman Christian College. Finally, he got his Law degree from the University of the Punjab, Lahore. Noman got married to Rabia Noman. The couple has three sons, Zaviyaar, Shahmeer and Rayaan
Career Journey
Noman Ijaz started his career journey with a short appearance as an actor in the Nusrat Thakur directed PTV drama of 1988. Though then he has appeared in many drama in which he played roles of different genera, including negative, romantic, serious, etc. He's one of the early drama was the 1993 "Nijaat" with Atiqa Odho and Huma Nawab. In this drama, ruler women compare to the urban women and focused on some important issues of our society, including child laboring, family planning, early aged marriage, etc.
He played the lead role in the fam, ous drama serial of ARY Digital TV "Mera Spain" alongside Sunita Marshall, Aamina Sheikh, Faisal Qureshi, and Saba Faisal. The drama is the story of a traditional feudal lord and politician Malik Wajahat Ali who was married to more than one woman.
He gave his one of the best performance in the Pakistani romantic drama serial "O' Rangresa" along with Sajal Ali and Bilal Abbas. The drama is the story of a stubborn girl, Sassi and here he played the role of Sassi's father. The drama is highly acclaimed by the people and has nominated by eighteen times on the Hum Award and Lux Style Award function. However, the drama won four Hum Awards in 2018.
His other television performances are:
Jhumka Jaan
Kaghaz ki Nao
Khamoshian
Khataa
Lahasil
Man-o-Salwa
Nigah
Nijaat
Noorpur ki Rani
Pyar naam ka diya
Sard Aag
Jeena tou hai
Taqdeer
Malangi Yeh Zindagi
Shanjha
kuch khawb thay mere
Ik nazar meri taraf
Noman also made his film debut and has appeared in the critically acclaimed 2008 film Ramchand Pakistani along with Nandita Das, Rashid Farooqi, Syed Fazel Hussain, Maria Wasti and Noman Ijaz as a role of Abdullah. The movie is based on the true story of a boy, who unintentionally crossed the border between Pakistan and India. His family has to go through many ordeals for him. It was an award-winning film and though then has been won nine different national and international awards. This film was firstly premiered in a competition at the "Tribeca Film Festival". Later on, this film was screened in the theater of many countries, such as Pakistan, India and the United Kingdom during the years of 2008 to 2009. This film has greatly succeeded with the huge critical and commercial acclaim.
His last performance on the large screen was the 2010 Urdu/Hindi film "Virsa" along with an Indian actor Arya Babbar and Mehreen Jabar. The film is an Indo-Pakistani Punjabi movie which revolves around the social and cultural values.
His other films are:
2008 Small Voices (Urdu)
2010 hijrat (Punjabi)
2016 Hijrat (Urdu)
Noman Ijaz has also hosted a television comedy show on PTV Home and Dunya news (Mazaaq Raat). His upcoming project is Hum TV drama serial "Alif" along with Hamza Ali Abbasi, Sajal Ali, Kubra Khan, and Ahsan Khan. The story revolves around the film-maker and a struggling actress who understands the word alif when they come across.
Achievements
Noman Ijaz is the recipient of Pride of Performance award which is a Pakistan Civilization award from the President of Pakistan, Asif Ali Zardari in 2012. Apart from this, he has also won a number of awards at many award functions.
Check out exclusive ➡ facts about Noman Ijaz.
Facts You Never Knew About Noman Ijaz!
Lux Style Award 2009 for Best TV actor
Hum Award for Best Actor for drama serial Badi Aapa in 2012.
PTV Award for Best TV Actor in 2012.
Hum Award for Best Actor for the drama serial Rehaai in 2013.
Hum Award for Best Actor in a Negative Role for the drama serial Ullu Baraye Farokht Nahi in 2014.
18th Lux Style Awards for Best Actor Male (Critics) for Dar si Jaati Hai Sila in 2019.
7th Hum Award for Best Actor Male (Jury) for Dar si Jaati Hai Sila in 2019.
7th Hum Award for Best Actor in a Negative Role for Dar si Jaati Hai Sila in 2019.
7th Hum Award for Most Impactful Character for Dar si Jaati Hai Sila in 2019.
Noman Ijaz Education
Qualification: University of the Punjab, LLB (degree in Law)
School: Divisional Public School
College: Forman Christian College
Noman Ijaz's Photos Gallery
This slideshow requires JavaScript.
Noman Ijaz Career
Profession: Actor, TV Presenter
Known For: Dar Si Jaati Hai Sila
Debut: Ramchand Pakistani
Salary: 2 Lac Par Episode
Net Worth: USD $25 Million Approx
Bored? Watch video biography of Noman Ijaz
Family & Relatives
Father: Not Known
Mother: Not Known
Brother(s): Awais
Sister(s): Not Known
Marital Status: Married
Spouse: Rabia Noman
Children: 3
Son(s): Noman Zaviyaar, Noman Rayaan, Noman Shameer
Daughter(s): None
FAQs about Noman Ijaz
What controversy did Noman Ijaz face?
Noman Ijaz landed in the fire when he passed sexist and offensive remarks by comparing women to horses at an award show.
How did Noman Ijaz respond to the controversy faced due to his controversial remarks?
Noman Ijaz justified that it was just a dialogue taken from a drama serial for which he got awarded. There were no intentions to offend any woman.
What Noman Ijaz said about the role of media?
Pakistani society, the individuals, are not prepared to utilize social media in an increasingly useful way.
What Noman Ijaz said about Firdous Jamal's controversial remarks against Mahira Khan?
According to Noman Ijaz, we should end this culture of setting an on-screen character in opposition to the actor and we should quit offering feed to babble sections for exposure.
What is the key to Noman Ijaz's success?
Noman Ijaz really shouldn't be a part of any media games and controversies. The achievement, the acclaim and the applause simply tail him normally.
Birthday Celebrities
Barney Walsh Wish Barney Walsh Happy Birthday
Kashmira Shah Wish Kashmira Shah Happy Birthday
Toni Mahfud Wish Toni Mahfud Happy Birthday
Amber Montana Wish Amber Montana Happy Birthday
Jacob Buster Wish Jacob Buster Happy Birthday
Annalise Basso Wish Annalise Basso Happy Birthday
Boman Irani Wish Boman Irani Happy Birthday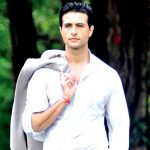 Apurva Agnihotri Wish Apurva Agnihotri Happy Birthday